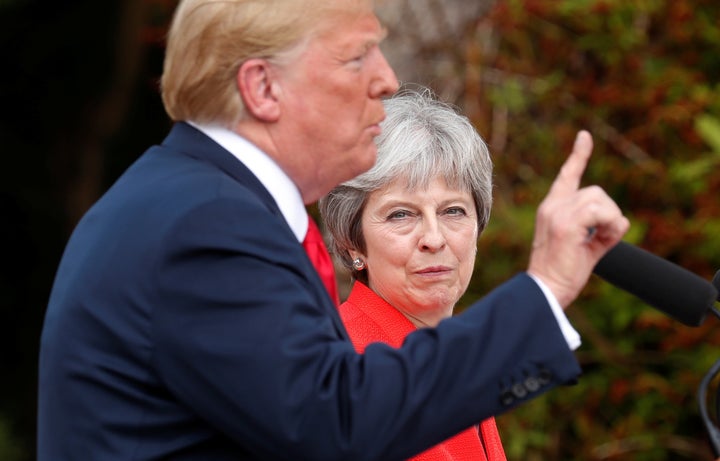 President Donald Trump said last week that he'd offered "tough" Brexit advice to British Prime Minister Theresa May that she had not heeded. May revealed on Sunday what the suggestion entailed: "He told me I should sue the EU," she said in an interview with the BBC's Andrew Barr.
"Not go into negotiations — sue them," May said. 
Trump had said during a joint press conference with the prime minister at her Chequers country residence on Friday that he'd given May "a suggestion" about how she should handle the Brexit negotiations.
"I think she found it maybe too brutal," Trump said. "I gave her a suggestion, not advice… I could fully understand why she thought it was a little bit tough."  
In an interview with British journalist Piers Morgan that also occurred Friday, Trump said he'd offered May an "option" that would give the U.K. an advantage over the European Union in the Brexit talks.
"I recommended her something, I gave her an option, I'd rather not tell you what that option is, but I think she might," Trump told Morgan. "I think it would've been great, but it's not too late for her to do that necessarily." 
In the BBC interview, May indicated that she was not planning to follow Trump's advice.
"Actually, no, we're going into negotiations with them," she said, referring to the EU. 
"Interestingly, what the president also said at that press conference was 'don't walk away,'" May continued. "Don't walk away from those negotiations because then you'll be stuck. So I want us to be able to sit down to negotiate the best deal for Britain."