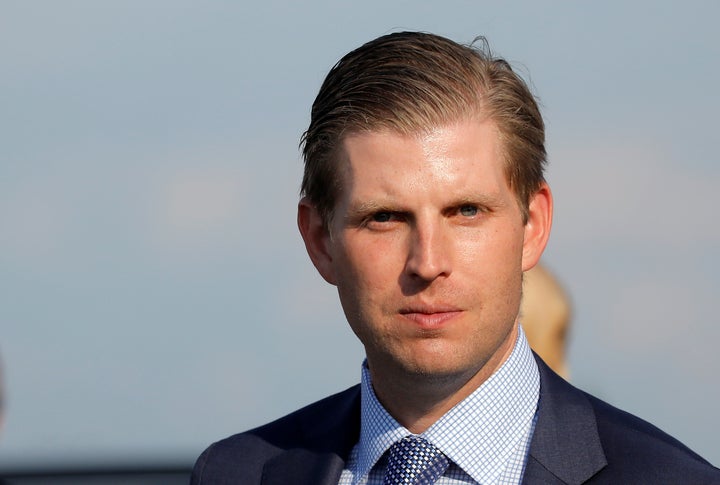 Eric Trump posted a furious tweet Friday slamming Reuters for running a photo of the president that the second son apparently thought was chosen because it evoked a Nazi salute.
Eric Trump slammed the "hatefulness" and "disgusting antics" of the "MSM" — mainstream media — for using a photo that he said exposes media "propaganda." He offered no other specifics.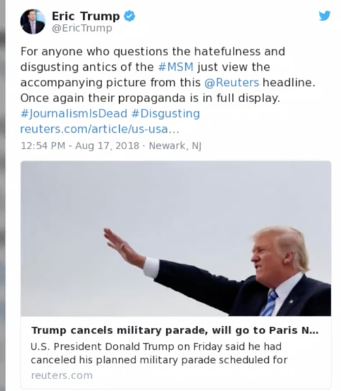 His tweet became especially confounding because Reuters later swapped out the photo to use one instead showing the president observing an Army exercise involving helicopters. It wasn't clear if the photo had been changed because of Eric Trump's objections. Reuters could not immediately be reached for comment. 
Most responses on Twitter expressed confusion and became even foggier after the photo accompanying the tweet changed. Some saw what Eric spotted in the image.
"Hi, Jeffrey. The great Jeffrey Lord," Trump called out at a speech in Harrisburg, Pennsylvania, that Lord apparently attended. "He was on fake news CNN for a long time. He was one of my few sources of truth. Thank you, Jeffrey, for being here. That's a great honor."
Lord, a Trump supporter, claimed his tweet was mocking fascists.