The vast majority of elected officials in New York City signed a letter to Amazon CEO Jeff Bezos in October 2017 inviting the mega-company to locate its second headquarters ― "HQ2" ― in the five boroughs.
"As the most dynamic and diverse city in the world, New York City will help propel Amazon's future growth and kickstart an exciting new chapter in the company's history," New York City's then-public advocate, borough presidents, representatives in the U.S. House and state legislature, and city council members argued in their letter to Bezos. "And we know that, no matter which city neighborhood it might choose for its new headquarters, Amazon will be a strong contributor to our civic and commercial life."
The letter focuses exclusively on New York City's merits, including its infrastructure and convenient location. It does not discuss any of the incentives the city or state might provide to Amazon to set up shop in the city.
After a prolonged audition process in which cities across North America competed for the opportunity to host Amazon's new corporate base, the Seattle-based conglomerate formally announced Tuesday that it would be splitting its HQ2 between Long Island City on the western edge of Queens and Northern Virginia's Crystal City, just outside Washington.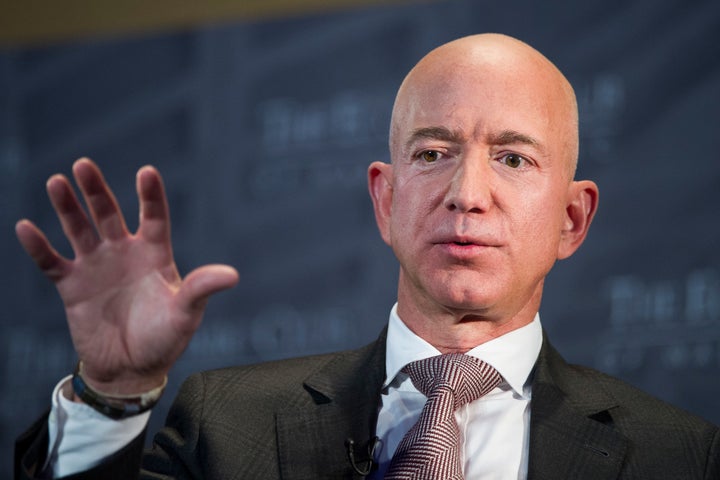 In exchange for the promise of 25,000 new jobs, New York Gov. Andrew Cuomo (D) and New York City Mayor Bill de Blasio (D) agreed to provide tax credits worth about $1.5 billion, Amazon revealed. The company could also take advantage of as much as $500 million in grant money to build its new offices.
Amazon estimated the company's relocation would generate $10 billion in tax revenue for the state and city over the next 20 years.
The accord, the details of which remained secret until Tuesday, has elicited criticism among many New York-based elected officials and activists who worry that the new corporate relocation will exacerbate the city's existing housing and transportation crises without meaningfully improving life for its residents.
Rep.-elect Alexandria Ocasio-Cortez (D), who is due to represent parts of Queens and the Bronx beginning in January, is one of New York City's only elected officials not to have signed the October 2017 letter. The letter preceded her June win in the Democratic primary for New York's 14th Congressional District, which unseated longtime Rep. Joe Crowley and rocketed Ocasio-Cortez into the national spotlight.
Ocasio-Cortez, who is in Washington participating in the Congressional Progressive Caucus' new member orientation, excoriated New York's Amazon HQ2 deal in a Twitter thread on Monday night.
"Amazon is a billion-dollar company," Ocasio-Cortez wrote. "The idea that it will receive hundreds of millions of dollars in tax breaks at a time when our subway is crumbling and our communities need MORE investment, not less, is extremely concerning to residents here."
New York City Councilman Jimmy Van Bramer (D) and New York state Sen. Michael Gianaris (D), who represent the part of Queens where Amazon is planning to erect HQ2, signed the 2017 letter.
But on Sunday, Gianaris and Van Bramer released a letter blasting the subsidies. They are also due to speak at a rally against HQ2 with progressive community groups on Wednesday morning at the proposed headquarters site in Long Island City.
Gianaris told HuffPost that he never supported giving Amazon financial incentives to move to New York City and was completely unaware of the terms of the agreement until they became public.
"The burden should not be on the 99 percent to pay the 1 percent to grace us with their presence," he said. "The burden should be on Amazon to tell us how much they're going to invest in the neighborhood they're gonna join."
"They're gonna make a profit on coming here ― off the backs of a city and state that can't find two nickels to rub together to make the trains run on time," he added.
Below is the letter that New York City politicians sent Bezos in October 2017.